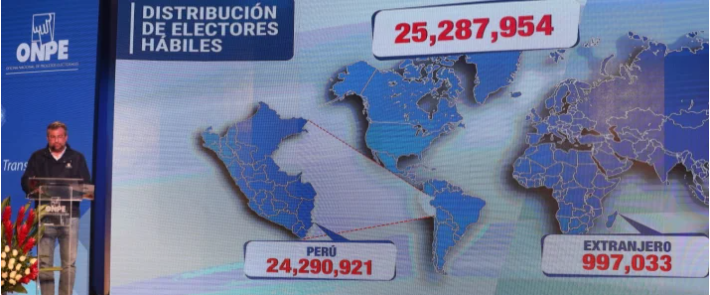 Peruvian mining companies were among the hardest hit in a broad wave of sales driven by the close presidential race in which Pedro Castillo (Peru Libre), the rural school teacher who promises to redistribute wealth, took a slight advantage over Keiko Fujimori (Fuerza Popular). Peru is a country with 32 million inhabitants.
The Peruvian currency fell back to a record low, weakening by 2.2% to 3,925 per dollar, while the General Index S&P / BVL Peru fell 6.9% at 1:12 p.m. In New York. The yield on Peru's 10-year dollar bonds rose 15 points to 2.81% and the price fell 1.2 cents to 99.6 cents on the dollar. Five-year credit default swaps increased 7 basis points to 97 points.
Until yesterday afternoon, with 93.8% of the votes counted in Sunday's election, Castillo leads with 50.2% of the votes against Fujimori's 49.8%. These results represent a change of course compared to the first hours after the elections when Fujimori had a slight advantage. However, as the day progresses, and with the arrival of more acts from rural areas, Castillo has taken the lead.
"The country is practically divided in half," said Alfredo Torres, director of Ipsos Peru.
About 96% of the votes cast in Peru have already been counted, while only 21% of the votes abroad have been counted. Around 997,000 Peruvians were authorized to vote abroad and so far Fujimori has won 63% of the votes cast.
For investors, a Castillo government that would seek higher taxes on mining is "becoming more of a reality," Rohan Reddy, Global X vice president, and research analyst, said by phone.
Higher taxes would raise costs for miners and likely reduce the production of metals such as copper in a boost to metal prices.
Volcan and Cerro Verde were among the worst performers on the S&P / BVL Peru General Index in Monday afternoon trading.
"Regardless of who wins, there will be huge swings in Peruvian assets and investors don't want to get caught on the wrong side," said Brendan McKenna, currency strategist at Wells Fargo in New York.
During the last year, Peru has suffered an episode of political volatility and scandal. The next president, who will be sworn in on July 28, will be Peru's fourth president since November.
Translation by: Giada Ferrucci
Translation from: https://www.mineria-pa.com/noticias/mineras-en-peru-caen-en-medio-de-incertidumbre-por-ajustada-eleccion-presidencial/?fbclid=IwAR3piMFrkUzMoeF7YlJDASZdoKd_nSs1YySepbXttIlpsKDZYWanWvDg3js