Kevo Dell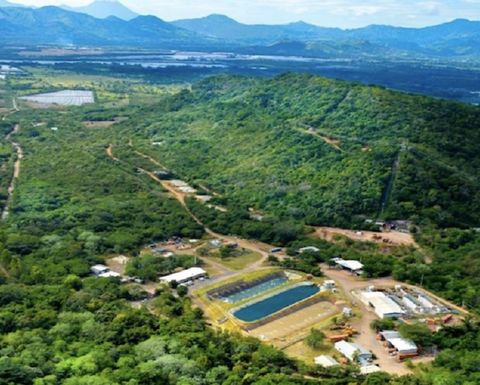 In a series of tweets, in Spanish, The Extractive Industries Observatory (El Observatorio de Industrias Extractivas – OIE) has introduced a thread about the Cerro Blanco mining project in Jutiapa, and its re-opening by Bluestone Resources.
The OIE was created with the intention of contributing data on the extractive industry in Guatemala from an independent perspective. Their intention is to create an information platform with different levels of disaggregated data.
The Cerro Blanco mining project, located in Jutiapa and with almost ten years of no mining activity, is back in the news after announcing its reactivation. Why is it important for us to be informed about this case? We explain more in this first thread:
According to MadreSelva, Bluestone Resources, the company that owns the mine, scheduled a meeting with Cerro Blanco residents on May 1 to announce not only its reactivation, but also a change of plans: the project will change from an underground mine to an open pit project.
Cerro Blanco is located in Asunción Mita, Jutiapa and has been in operation since 2007 for gold and silver mining. However, in 2012 the project requested from the Ministry of Energy and Mines (MEM) a "2-year temporary closure due to technical failures and flooding", since when no mining activities have been carried out.
Yesterday (4th May) Bluestone Resources Inc. issued a press release presenting the results of the drilling programme at the Cerro Blanco project with "three subway and thirteen surface drill holes totalling 4,493 meters."
The Canadian company, Bluestone Resources Inc., operates in Guatemala through Entre Mares, S.A. (formerly a subsidiary of the Canadian company, Goldcorp). In addition to the mining license for Cerro Blanco, Entre Mares has 23 mining exploration applications to its name.
The reactivation of Cerro Blanco, and its change from undergound mining to open pit mining entails much greater and irreversible socio-environmental risks and impacts.
The history of the Cerro Blanco mining project is complex, full of flaws and loopholes. Next week we will pick up this thread and focus on the various companies and individuals involved in that story.
Colectivo Madre Selva, alongside other Central America organisations, have put out a release, in Spanish, denouncing the open pit mine and you can read this here, Digamos No A La Mina Cerro Blanco.
Some very good background and history of the Cerro Blanco mine can be found on the Environmental Justice Atlas website, here, EJAtlas – Cerro Blanco. There is information in both English and Spanish and, though slightly outdated, does have some very good background. It is sad that this excellent resource is not used and updated more often.