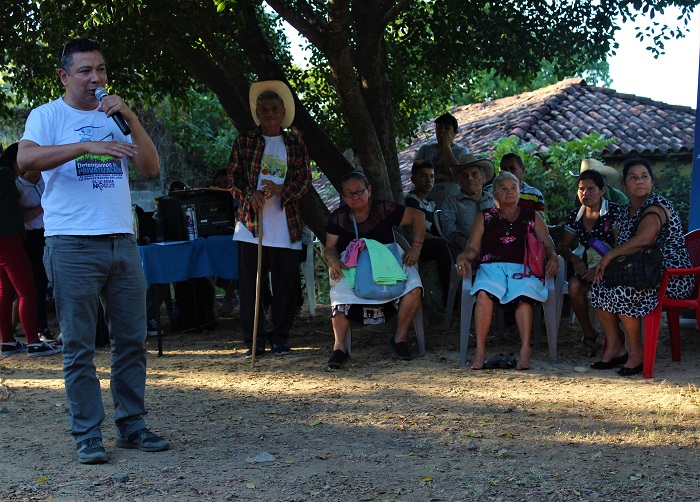 Every year the inhabitants of the communities of Santa Rosa, Trinidad and La Maraña in the Department of Cabañas, fervently commemorate the life of land defenders Ramiro Rivera, Marcelo Rivera and Dora Sorto, who were criminalized and killed for opposing mining projects in this area.
On this occasion, the commemoration was held in the town of Maraña, home to some of the victims of the repression unleashed by Pacific Rim Mining in 2009. During this event, dozens of men and women attended to celebrate the legacy of the leaders who led the struggle against mining companies in the country, and paid with their lives for it, and also to celebrate the victory for whom these defenders gave their lives.
"Since 2005, we have organized in the communities of Santa Rosa, Trinidad, La Maraña and other communities of San Isidro Cabañas, to oppose metal projects. That opposition caused mining companies, allied with the local right-wing government, to organize attacks on our leaders," expressed the representative of ADES and local environmentalist, Alirio Hernández.
Hernandez recounts how the tactics that Pacific Rim conspired to persecute and assassinate, Marcelo Rivera in 2009, for his fight against metal mining in El Salvador. Marcelo Rivera was found in a well in an advanced state of decomposition; and later that year, Ramiro Rivera and Dora Sorto, who was 8 months pregnant, were killed by paid gunmen.
Pedro Cabezas, representative of the Central American Alliance against Mining (ACAFREMIN) and the Association for Development in El Salvador (CRIPDES) stated: "We are remembering those who gave their lives for the struggle, but also as Salvadorans, as members of the communities in Cabañas, we are celebrating the prohibition of mining, a great victory against the mining companies. A victory that has been recognized not only in El Salvador but also internationally."
Through these commemorations, the inhabitants continue to demand justice for the debt that the Salvadoran State has with the relatives and communities of Cabañas.
"What we demand is justice from the State, because we owed a debt, to family members and communities. First, because the people who opposed mining projects have been criminalized. Secondly, these people have been marginalized in health care services, or when asking for agricultural packages from state institutions. When representatives of these institutions see that people from Santa Rosa, de la Maraña or Trinidad, come to ask for services, they are put aside. That is discrimination.", concluded Hernandez.
-------------
Translated by: Giada Ferrucci
Translated from: http://acafremin.org/es/noticias-regionales/el-salvador/426-el-estado-de-el-salvador-sigue-con-una-cuenta-pendiente-para-defensores-criminalizados-por-empresas-mineras