Six years after the assassination of Marcelo Rivera, family members and environmental leaders of Cabañas continue to demand justice.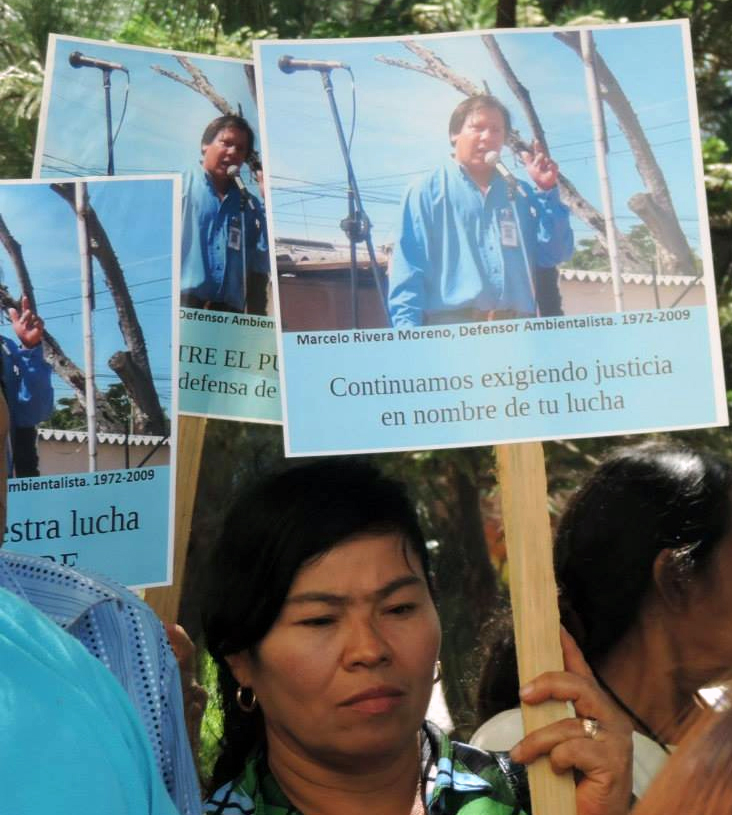 "We are outraged that after six years, families of people who worked for the welfare of Salvadoran society are not able to find truth" said Miguel Rivera a community member of San Isidro Cabañas and brother of Marcelo Rivera during a press conference at the Attorney General Office of El Salvador.
"What we are asking for is the truth, we are the relatives of Marcelo Rivera, Dora Sorto and Ramiro Rivera, environmentalists of San Isidro, Cabañas, and we want Attorney General Luis Martinez to work efficiently to find the masterminds who currently walk the streets free, with impunity... my brother was kidnapped and tortured before he was murdered... we want an in depth investigation that leads to charge the masterminds who ordered the murder of our friends and family" he added
Rivera explained that last October 7, 2014, he presented a request to investigate the involvement of Rodrigo Chavez Palacios (a lawyer currently held in prison for the gruesome murder of a municipal employee in 2014) in the murder of his brother Marcelo.
"It is not a coincidence that environmentalists were killed in Cabañas at the time Mr. Chavez Palacios served as vice president of Pacific Rim; he was the public face who was present in all the activities of the company."
Marcelo an environmentalist by vocation, and educator by profession worked tirelessly to protect the hills surrounding San Isidro, after multinational mining company Pacific Rim (now Oceana Gold) started a number of mineral exploration projects that were opposed by the community. Shortly after Marcelo's death in August 2009, anti-mining activists Ramiro Rivera and Dora Sorto were also murdered in December 20th and December 26th, 2009,
Environmental leader Vidalina Morales stated that the Attorney General, Luis Martinez, is not doing his work.
"... and after six years of investigations of those sent to kill our fellow environmentalists, these murders have not been clarified; the Attorney General has a debt with the families of the victims, and if can not fulfil its duties, he should resign" she argued.
The practice of death threats and violence against members of communities struggling to prevent exploration and mining in San Isidro, Cabañas also affected ​​journalists from Radio Victoria, who were repeatedly intimidated via text messages, telephone calls and emails.
"We demand that that Attorney Martinez starts an investigation on the intellectual authors of these crimes against environmentalists in Cabañas as soon as possible," also reiterated Morales.