Press release - July 02, 201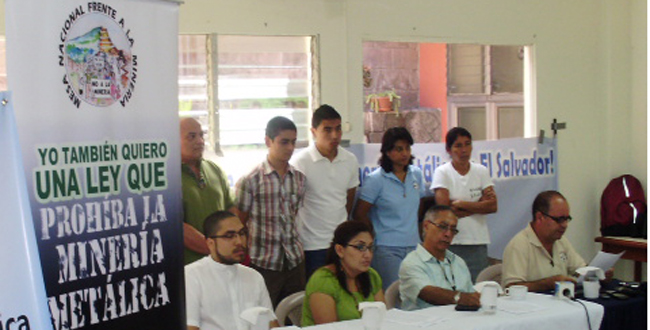 3
The National Roundtable Against Metallic Mining is an alliance of social, religious, NGOs, environmentalists, and community organizations. Since 2006, we have opposed metallic mining operation in El Salvador. Throughout these years various expressions of violence and abuses against people who make up our coalition have been committed without proper investigations and successful prosecutions of its perpetrators. In the archives of the Attorney General's Office and National Civil Police complaints of murder, death threats, persecution, kidnappings and robberies against colleagues who are part of our organization lie stagnant. Seven years into the struggle to oppose mining in the country, these threats continue to escalate.
A week ago, the Center for Research on Investment and Trade (CEICOM), member organization of the National Roundtable Against Metallic Mining, reported that its official website has received since late May, numerous cyber attacks ant that confidential information has been stolen from their web site. To date, the source and the objectives of these attacks are unknown. In addition, last June 25, Zenayda Serrano, social activist working for the Foundation for the Study of Applied Law (FESPAD), another organization of la Mesa, was robbed at gunpoint by unknown individuals close to her place of residence, it is suspected that these individuals were stalking her home before violently snatching her belongings and taking all documentation and identification she was carrying.

It is not the first time violence occurs against our members. In the past, men and women, environmentalist leaders were killed the department of Cabañas in communities that are opposed to Pacific Rim; CEICOM has also denounced in the past a string his of robberies and kidnappings; Zenayda Serrano and his family have been affected by burglaries and death threats, journalists from Radio Victoria that have accompanied the anti-mining struggle in the department of Cabañas have continuously received death threats and to date must remain in constant alert.

The National Roundtable Against Metallic Mining considers this new wave of violence against environmental activists and human rights defenders is the result of our continued resistance against the metal mining industry in the country, and therefore we demand:

1. As in the case of the murders of environmentalists Marcelo Rivera, Ramiro Rivera and Dora Sorto and the persecution of activists and journalists in Cabañas Radio Victoria, we emphasize that these events could have been avoided if state institutions had acted in a timely and efficient manner after allegations were made by the victims. Therefore, we request that the life and physical integrity of victims is guaranteed on the recently denounced cases.

2. We demand that the Attorney General's Office and the National Police open an investigation to identify the intellectual authors the crimes recently exposed, as well as the origin and motivation for these attacks.

3. We further demand that they implement effective security measures in the area of residence and work environment of the victims to prevent further crimes.

4. We demand of the Legislative Assembly and the President implement a law that permanently prohibits metal mining and thus prevent such acts of violence against those opposed to the mining industry in the country.

We demand serious and professional investigations on these new acts of violence!


Stop the persecution and intimidation against our struggle for life and the rejection of metal mining in El Salvador!
News coverage in Spanish:
Amenazan la vida de ambientalistas contra la minería metálica
http://www.diariocolatino.com/es/20130702/nacionales/117451/Amenazan-la-vida-de--ambientalistas-contra-la-miner%C3%ADa-met%C3%A1lica.htm
Ambientalistas denuncian nuevas amenazas y ataques
http://www.contrapunto.com.sv/ddhh/ambientalistas-denuncian-nuevas-amenazas-y-ataques
Ambientalistas denuncian nuevos ataques de violencia
http://migenteinforma.org/?p=17848