Melissa Vida : America Magazine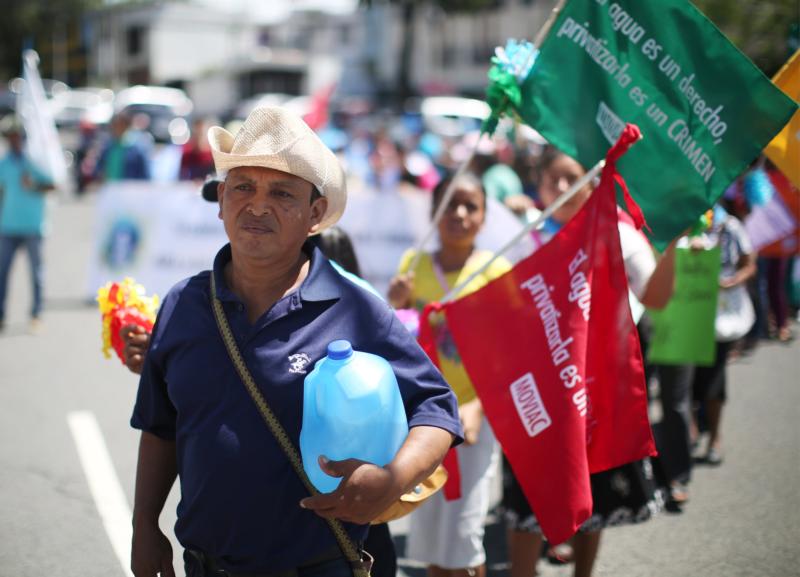 The archbishop of San Salvador, Jose Luis Escobar Alas, points to Blessed Oscar Romero's portrait on a shelf in his office. "Blessed Romero, is, without a doubt, a role model for us," he tells America. "He is the one who marked a turning point in our history, when the [Salvadoran] Church became preoccupied with human rights."
Over the past decade, the Salvadoran Church has been increasingly vocal about a dire human rights situation in this country: the access to fresh water. In 2017, the archdiocese, along with the Jesuit-run University of Central America, spearheaded the movement to ban mining for gold and other metals, practices that produced considerable water pollution. Now the church is working to protect the human right to water and fighting the privatization of the resource.
"Water is monopolized and contaminated by industries," Archbishop Escobar Alas says. "There isn't a law that guarantees the access to water for the poor, the people, the multitudes, but there is total freedom for businesses." (Cardinal Gregorio Rosa Chávez, appointed by Pope Francis last year, is the auxiliary bishop of San Salvador.)
For nearly two decades, El Salvador has considered but failed to pass such a comprehensive law. Instead there are many contradictory and hypertechnical laws, with loopholes that allow the abuse and misuse of water.
---
"It's not possible that we still don't have a law that regulates access to water. As the church, we cannot stay silent."
---
"We are not going to rest until we have our General Water Bill approved," the archbishop says. "It's not possible that we still don't have a law that regulates access to water. As the church, we cannot stay silent."
"It is a question of life or death," agrees Andrés McKinley, a mining and water specialist at the U.C.A. In 2016, water shortages led to protests and the declaration of a national state of emergency by President Salvador Sánchez Cerén.
Decades of mining, forest destruction and unsustainable agricultural practices have atrophied the soil here, which no longer absorbs the country's abundant rainwater, resulting in severe seasonal flooding. Climate change is another reason that El Salvador now endures floods as well as rapidly drying lakes, rivers and aquifers.
---
Decades of mining, forest destruction and unsustainable agricultural practices have atrophied the soil here, resulting in severe seasonal flooding.
---
"We are reaching the crisis level of having 1,700 cubic meters of freshwater per capita, while Guatemala and Nicaragua have between 15,000 and 30,000!", Mr. McKinley says, gesturing toward a map of the country's contaminated rivers. According to government data, 90 percent of the country's surface water is polluted beyond repair, and almost 1.5 million Salvadorans do not have access to potable water.
Taxi driver Roberto Díaz is reminded of water's scarcity every day. In a compact house made of concrete in San Salvador, Mr. Díaz rushes to fill his cistern whenever water falls from histap. "Water comes twice or three times a week," he says. "When I change my filter every few months, it is full of dark, slimy mud." Like many other families, he relies heavily on commercial bottled water, despite being charged for municipal water.
He recalls his rural hometown, where water flowed from nearby springs and was regulated by community boards. "Where my parents live, the village still has its own well," he says. "I love drinking water there, it is still fresh and affordable."
But Archbishop Escobar Alas says he has witnessed the subtle privatization of water springs, some of which have been walled off from their communities. "If the private sector owns water, we would not only fear rising prices, but also pollution and all sorts of abuses, like people who cannot access their well anymore," he says. "We would be in the palm of their hand."
Economic sectors such as the sugarcane industry rely on enormous quantities of water. "A lot of big corporations...are content with today's chaos in water regulation, because they can continue consuming huge amounts of water and polluting it without worrying about sanctions," Mr. McKinley says. "And people in Congress have family members working in these industries."
Mr. McKinley and his team at U.C.A. assembled a version of the General Water Bill that includes a governing body with representatives from the national and local governments, civil society and the private sector. "It's a matter of consensus," he explains. The proposal, now up for debate in Congress, is supported by the Archdiocese of San Salvador and by the Attorney General's Office for the Defense of Human Rights.
Even if the bill should pass, some corporations say they should have a greater say in how it is implemented. "Their main argument is efficiency and being apolitical," Mr. McKinley says. "But private enterprise is the reason for so much misuse and contamination. It has been the [source] of problems, not the solution." He says users and regulators should have distinct roles: "We argue that water is a public good, not a merchandise. It's a human right, a source of life."
"As the church, we are involved," Archbishop Escobar Alas says. "We're thinking about collecting signed petitions [for the bill], because we want to take the people's support [to Congress]." Rallying the general population was essential to achieving the ban on metal mining in 2017.
The archbishop correlates the country's unequal access to water with its infamous levels of crime, including gang-related violence: "We are convinced that all this social injustice, the violation of rights, the segregation of people, the social exclusion…is one of the true causes of El Salvador's violence, of our social breakdown.
"We are determined to preach the Gospel and take forth all the liturgy and evangelization, but God wants the salvation of mankind in its entirety, in its daily reality," he says. "God does not want injustice. The Lord has sent us to work for the Kingdom of God on earth."
---
Republished from: https://www.americamagazine.org/politics-society/2018/04/06/church-el-salvador-backs-law-declaring-clean-affordable-water-human