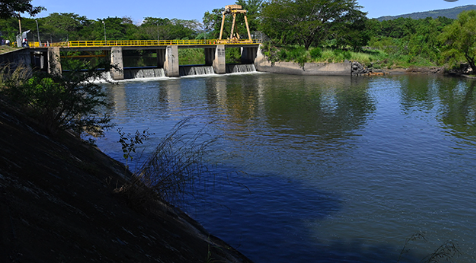 A dozen mayors from Guatemala, El Salvador, and Honduras expressed this Tuesday their opposition to the exploitation of the Cerro Blanco mine in Guatemala for contaminating the strategic Lempa River that runs through the three countries and supplies water to 4.5 million people. "We consider it imperative to express our position against mining exploitation, in any of its forms, that takes place in Guatemala, and in particular in the Cerro Blanco mine, located in the (Guatemalan) municipality of Asunción Mita," the mayors expressed in a statement.
Grouped in the Río Lempa Trinational Association, which encompasses 26 municipalities, the councilors assure that the mine was initially in charge of the company "Entremares S.A" and is now managed by the Canadian company "Bluestone Resources INC" that "intends" to change the underground tunnel mining methodology, by open-pit mining.
In 2007, the Ministry of Environment and Natural Resources of Guatemala, after approving an environmental impact study, also allowed Entremares to exploit Cerro Blanco using the underground method.
For its part, the Vancouver-based company Bluestone Resources INC said in a statement on Monday that, since the end of 2021, it had requested the Guatemalan authorities to "modify" the environmental permit and that it awaits "receiving approval."
For the mayors, open-pit mining "is more destructive" and the damage to the environment, water, and ecosystems "is irremediable and irreversible" due to the intensive use of large amounts of cyanide and arsenic to separate the gold from the rest of the removed material.
In 14 years, according to the statement, the Cerro Blanco mine "has caused contamination in the Ostúa-Guija-Lempa basin, putting at risk" the population of the three countries, and also in the so-called Trifinio region "it has dried up sources of water" from two Guatemalan villages in Asunción Mita
The Trifinio region annually produces 2,000 million cubic meters of water and is "key" for the inhabitants and the production of the peoples of the cross-border region, declared the manager of the Mancomunidad, Héctor Aguirre.
The tributary of the Lempa has a route of 422 kilometers and is born in Guatemala (30.4 km), continues through Honduras (31.4 km), and ends in the Pacific Ocean with its delta in El Salvador (360.3 km).
The Lempa is decisive for the three countries because it serves 4.5 million people to irrigate crops, feeds hydroelectric plants, and supplies, after being treated, drinking water to a large part of El Salvador, where most of its extension is located.
The statement is signed by Guatemalan mayors from Esquipulas, Comotán, Santa Catarina Mita and San Juan Ermita, the mayors and deputy mayors of Sinuapa, Ocotepeque, La Labor in Honduras, and the Salvadoran towns of Candelaria de la Frontera, Citalá, Dulce Nombre de Maria, San Francisco Morazán and San Fernando.
Translated from https://www.elfinancierocr.com/cables/alcaldes-centroamericanos-rechazan-explotacion/WTRLBMPASBEFNMPQ4VGWEHNNDQ/story/?fbclid=IwAR32HnH0FzzrUWv_uwXJ4bbTukCPHcWhdZTEK0R0x24W0xS4Mf1SCoWd2oY
Translated by Giada Ferrucci