Elizabeth Malkin : EcoAmericas
The government of El Salvador and mining opponents won an important victory this month when an arbitration panel threw out an Australian-Canadian mining company's demand that it be granted US$314 million in compensation after being denied a permit to drill for gold. But anti-mining activists, arguing that the Oct. 14 decision offers only a temporary reprieve, plan to use the attention created by the ruling to press for a permanent ban on metal mining in El Salvador.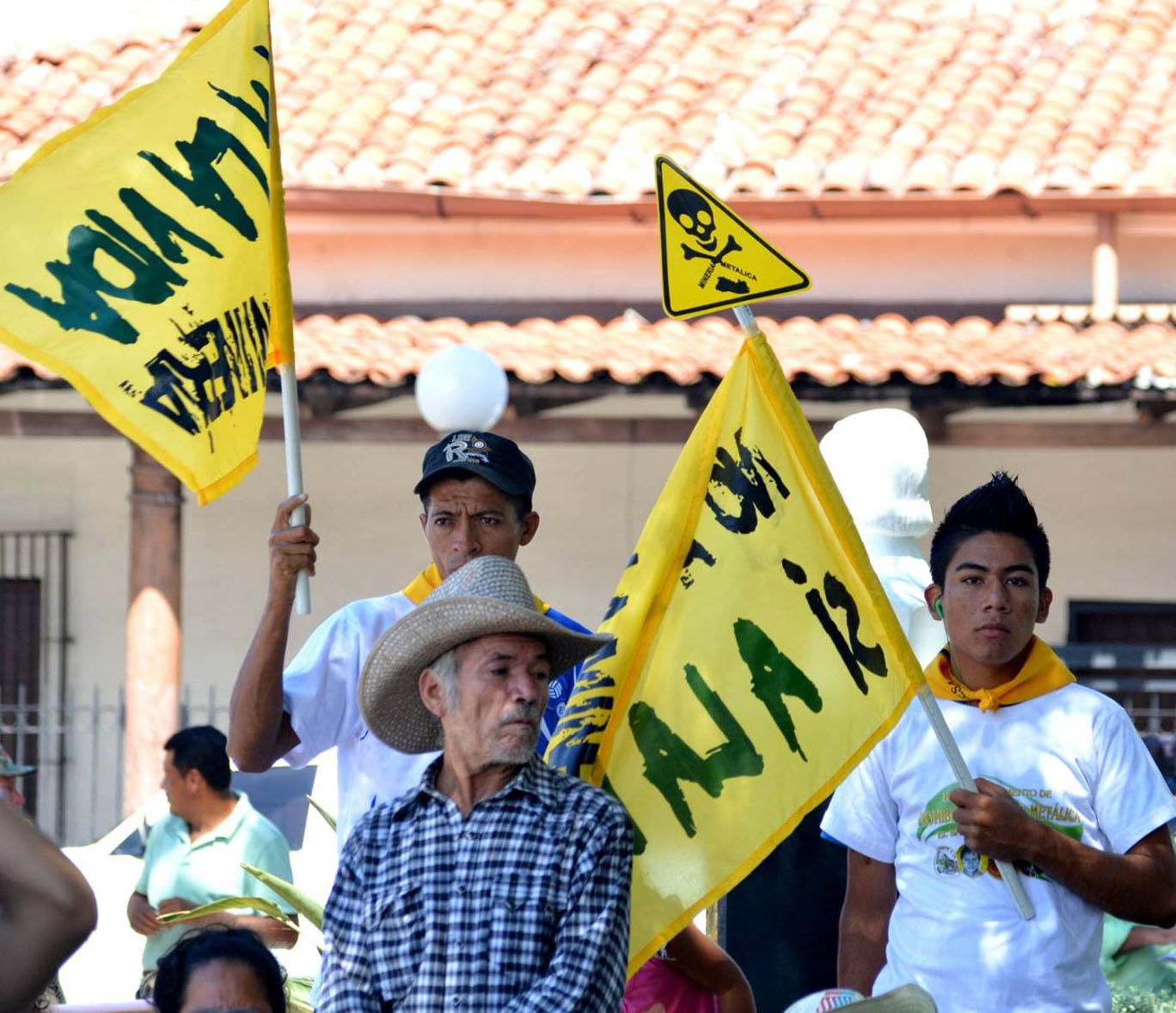 An administrative moratorium on mine permits has been in place since 2008; unless the country's unicameral Legislative Assembly approves it as law, however, a new president could break with predecessors merely by ordering officials to start reviewing applications.
"Conditions could change at any moment, so we can't stand by with our arms crossed," says Pedro Cabezas, coordinator of the mining and human rights program at the Association for the Development of El Salvador (Cripdes), a rural development organization that is part of an alliance called the National Roundtable Against Metal Mining. Adds Cabezas: "This is a long fight that will go on for many years."
The first round of that fight involves a company called Pacific Rim, which applied for a permit to open a gold mine in the north central department of Cabañas in 2004 after several years of exploration. Unlike neighboring Guatemala and Honduras, El Salvador has no large scale mining, and public opposition quickly began to form against Pacific Rim.
Given El Salvador's dense population and the stress on its water resources, mining opponents especially feared that the gold mine could pollute the Río Lempa, the country's longest river and a water source for as much as half of the country.
Although the right-wing government at the time welcomed Pacific Rim, the company's application for a concession fell short of the legal requirements, according to documents from the arbitration ruling. Among the problems were the lack of an environmental permit and a failure to acquire land rights for most of the concession.
Metal mining drew growing opposition nationwide. The Roman Catholic Church weighed in against it, and several academic studies confirmed the tiny country's vulnerability to the industry.
­­­­­­­­­­­­­-----------------------------
"We are not against investment," says Lina Pohl, El Salvador's environment minister. But, she adds, "there are a series of conditions that have to be met first for mining to be approved."
---------------------------
The groundswell against mining prompted the right-wing government to declare the moratorium, which has been kept in place under two successive left-wing governments.
An outside evaluation of the industry commissioned by the government in 2011 argued that El Salvador was not prepared to accept large mining projects. The study pointed to several problems, including the country's environmental fragility along with the weakness of the institutions charged with regulating and supervising mining companies.
In addition, the country's geology has mostly attracted interest from smaller mining companies that have fewer resources to mitigate environmental damage. Lastly, the report noted that there is intense social conflict surrounding mining projects.
"We are not against investment," says Lina Pohl, El Salvador's environment minister. But, she adds, "there are a series of conditions that have to be met first for mining to be approved."
In response to the moratorium, in 2009 a Pacific Rim subsidiary called Pac Rim Cayman took El Salvador to the International Centre for Settlement of Investment Disputes, or ICSID, an arbitration panel at the World Bank in Washington, D.C. Pacific Rim, which was based in Canada, was acquired in 2013 by OceanaGold, an Australian-Canadian company that continued the arbitration claim.
The company estimates that it lost US$314 million in potential profits because the project was halted, a figure that is more than 1% of El Salvador's Gross Domestic Product. In its complaint, Pac Rim Cayman said it had made the initial investment in exploration in El Salvador because officials welcomed the project and led the company to believe that if gold were found, permits to open a mine would be granted.
After seven years the panel decided in El Salvador's favor, agreeing that the government was never required to issue Pacific Rim a mining permit. It denied the company any compensation and ordered OceanaGold to reimburse El Salvador $8 million in legal fees.
In a statement, the company said that it would evaluate its next steps, suggesting that it may appeal.
The Pacific Rim dispute had become a test case for organizations that oppose the use of arbitration under international trade and investment treaties. Activists and environmental groups say that corporations use ICSID to challenge governments' right to set rules for health and safety. A number of such cases brought against Latin American countries at the tribunal involve disputes over mines or oil and gas deposits.
"It is an arbitration mechanism that was set up to protect corporations in developing countries," says John Cavanagh, director of the Institute for Policy Studies in Washington, D.C.
Jamie Kneen, a spokesman for Mining Watch Canada, says that companies use the threat of arbitration as a way to pressure governments. "There's no requirement to exhaust other remedies before going to the investment tribunal," he says. "It's not a last resource, it's a first resource."
In El Salvador, activists call the ruling a moral victory, but they say a new law to ban metal mining is needed before the 2019 elections, which could bring a right-wing government to power.
Despite public support for a ban, the Legislative Assembly has been reluctant to pass one, says Cabezas.
Meanwhile, OceanaGold and other mining companies still have a legal presence in El Salvador even though their activities have been frozen by the moratorium.
Says Cabezas: "If I were the company, I would continue the case until conditions change."
Republished from: http://www.ecoamericas.com/en/story.aspx?id=1722