Since OceanaGold acquired Pacific Rim in 2013, members of the the Maritime Union of Australia, along Salvadorean and Filipino residents in Melbourne, have held monthly solidarity actions to demand that the company withdraws from El Salvador and the Philippines.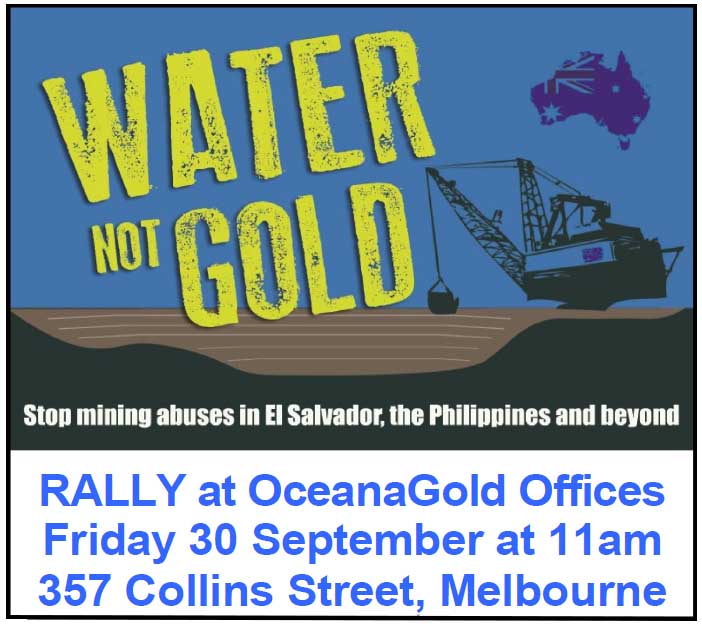 A rally in support of the people of El Salvador will take place outside the offices of OceanGold on Friday Septemebr 30, at 357 Collins Street, Melbourne.
These actions are against the Australian mining company OceanaGold, which is suing El Salvador for over $300 million because it will not issue a mining permit.
The company is able to sue El Salvador because a previous government in that country agreed to Investor State Dispute Settlement (ISDS) legislation. "The legal framework that has been created favours investors and violates the human rights of peoples" explained Bernardo Belloso, President of the Association for the Development of El Salvador.
El Salvador is one of the poorest countries, with average per capital income of $3,800 US per year. It is also one of the most densely populated countries with approximately 360 persons per square Km. It is also one of the most water starved with only about 2% of its surface water drinkable.
The government of El Salvador placed a ban on mining in 2008, due to the devastating environmental effects of previous mining in their country. Much of the water supply is contaminated with heavy metals such as cyanide – used to leach gold from the soil and arsenic, which is present wherever gold is found. The high content of heavy metals in the water has been blamed for the high incident of kidney and lung diseases in their country.
The original company that applied for the exploration license was the Canadian company PacificRim. In September 2013, it was bought out by Collins Street mining company OceanaGold and its only tangible asset was the legal case against El Salvador.
The local community in Cabañas was opposed to the opening of the mine and in 2009, people started receiving death threats. In June 2009, Marcelo Rivera, a school teacher, community leader in San Isidro and outspoken opponent of the mine was kidnapped. About two weeks later his body was found with visible signs of torture, consistent with former death squad tactics during El Salvador's civil war.
Ramiro Rivera was Vice President of the Environmental Committee in Cabañas. On August 7th he was shot eight times in the back and survived, but on 20th December 2009 at least four gunmen with M-16 rifles opened fire on the truck he was driving, killing Ramiro and Felicita Eschevarria, who was sitting next to him in the truck.
On December 26 2009 Dora Alicia Recinos Soto, an active member of the Cabañas Environmental Committee and neighbour of Ramiro was shot with a high powered rifle while returning from washing clothes in a spring. She was a mother of six and eight months pregnant at the time. The bullet killed her and her unborn child and injured her two-year-old son she was nursing.
On June 4th 2011, Jose Duran a member of the Environmental Committee of Cabañas was abducted on his way to the technical school where he was a student. His body was found 10 days later in a common grave.
The case against El Salvador is one of the longest running ISDS cases, it has been running for seven years. The three-man tribunal at the International Centre for Settlement of International Disputes (ICSID) in the World Bank is an anomaly in law. It is the only place a person can act as Judge and still act as a Trade lawyer. There are no precedents and no right of Appeal. The case against El Salvador was heard in September 2014 and the decision is due to be handed down in the next few weeks.
The campaign against OceanaGold is taking place in many countries. In Washington DC many protests of the case have taken place at the World Bank. OceanaGold decided not to hold their AGM in Melbourne and took it to Toronto where protests were held outside and inside the AGM. In El Salvador communities have been holding plebiscites to ban mining and over 99% of respondents have voted to continue the ban on mining. In Didipio in the Philippines locals blockaded drilling equipment and an appeal has been made to President Duterte to stop OceanaGold's operations.
A letter to the World Bank condemning OceanaGold was signed by over 303 international and national civil society organisations. SumofUs conducted a petition that we handed to OceanaGold signed by over 300,000 people.
We have a key role to play, because OceanaGold's offices are right here at 357 Collins Street Melbourne and although protests have been held the last Friday of every month for almost three years, we are asking all members and all unions to be at the next rally on Friday 30th September to hold this company accountable for their unjustifiable actions against one of the poorest countries on earth.
Support the people of El Salvador in their fight for justice against corporate greed and come this Friday at 11amoutside OceanaGold's office at 357 Collins Street, Melbourne.
IU
Joe Italia
Victorian Branch Secretary
Maritime Union of Australia
46 – 54 Ireland Street
West Melbourne VIC 3003
Ph: (03) 9329 5477
Mobile: 0439 477 756