"What is Happening to Canada's Good Name?"
As Pacific Rim pushes forward with its law suit for $77 million against the Salvadoran government, environmental, policy and trade organizations visited the Canadian Embassy in Washington on November 12th to talk about the threats posed by Canadian companies in El Salvador. According to a letter addressed to the Canadian Ambassador, the goal of the visit was to "urge the Canadian government to alert Pacific Rim that its investor-state claim against the Salvadoran government for enforcing its own environmental laws and striving to protect its water and communities tarnishes the image of the Canadian mining industry."
The full text of the letter is available here. The Spanish version is available here.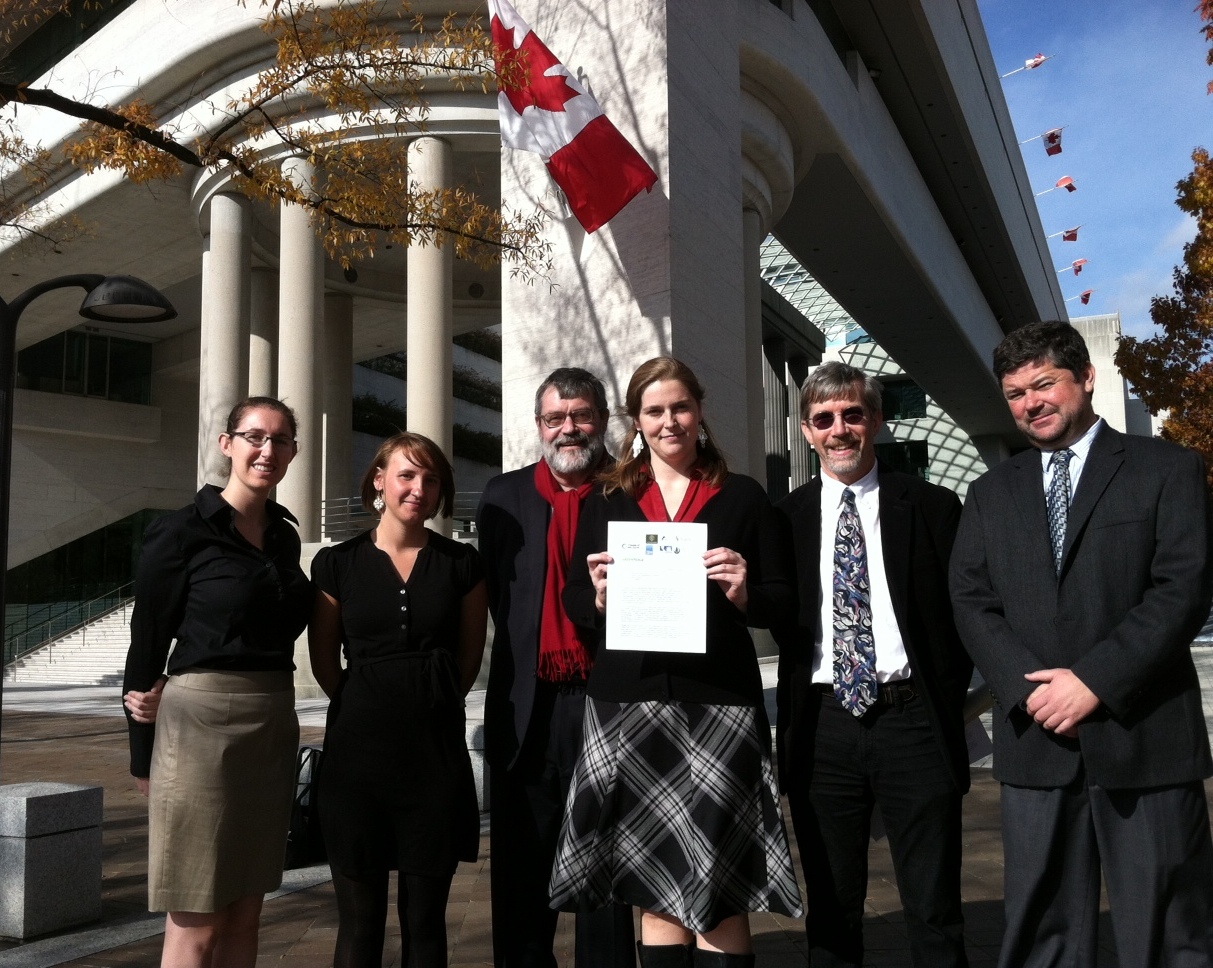 For more information about the letter and the meeting in the Embassy see:
Harper's folly is El Salvador's tragedy: Friends of the Earth visits the Canadian Embassy to protest Pac Rim gold mine fiasco
By Bill Warren
On Monday the 12th of November, I joined representatives of several environmental and public interest groups gathered in front of the grandiose and distinctly odd Canadian Embassy, which occupies one of the most prominent sites in D.C. on Pennsylvania Avenue, just down the hill from the Capitol and across the street from the National Gallery of Art.
Our mission could not be more serious. We came to the embassy to protest the activities of the Vancouver-based Pacific Rim Mining Corporation in El Salvador. Pac Rim's proposed gold mine threatens the water supply and health of the Salvadoran people and has, inadvertently or not, unleashed violence and murder against opponents of the mining project. This is beyond question a tragedy-- one which has been compounded by Pac Rim's suit before a World Bank tribunal, where it is demanding tens of millions of dollars in compensation for El Salvador's alleged violation of its "property rights" under international investment law, after the government denied the company a permit to proceed with its gold mining project.
An Appeal to Canada to Stand with El Salvador, the First Nation to Halt Gold Mining
By Manuel Perez Rocha
Representatives from IPS and other environmental and public policy organizations hold meeting at Canadian Embassy to say, "Tell Pacific Rim to stop bullying El Salvador."
I paid a visit this week to the Canadian Embassy with colleagues from the Institute for Policy Studies and other environmental and public policy organizations to deliver a letter to the Canadian Ambassador to the United States. We are demanding that his government tell Pacific Rim — the Vancouver-based mining company — to stop bullying the people of El Salvador.
Our letter was co-signed by Greenpeace, Sierra Club, Public Citizen, Friends of the Earth, Earthworks, the Center for International Environmental Law, and others. We wrote:
"Given the severe environment and human rights implications associated with Pacific Rim's investment in El Salvador and the gold mine and cyanide leach-water processing plant it is proposing, we urge the Canadian government to alert Pacific Rim that its investor-state claim against the Salvadoran government for enforcing its own environmental laws and striving to protect its water and communities tarnishes the image of the Canadian mining industry."
We Stand with the People of El Salvador
By Hillary Lewis
Yesterday I helped deliver a letter to the Canadian Embassy here in Washington, DC, about the lawsuit against the Central American country of El Salvador, by Pacific Rim Mining Corporation. The letter was coordinated by the Institute for Policy Studies and signed by Friends of the Earth, Center for International Environmental Law, Public Citizen, Sierra Club Greenpeace, Earth Island Institute and Foundation Earth (along with Earthworks).
Pacific Rim is a Canadian mining company exploring for gold in the mineral rich mountains of El Salvador. It is no surprise to geologists that Pacific Rim believes they can strike it rich there. Billions of dollars rich.
Radio interview with Manuel Perez Rocha (in Spanish)
Según organizaciones medioambientales, la canadiense Pacific Rim Mining Corp. es una amenaza para El Salvador
Este lunes en Washington nueve organizaciones de defensa del medioambiente presentaron al embajador canadiense en Estados Unidos, Gary Doer, una carta en la que expresan su preocupación por las acciones de la minera canadiense Pacific Rim Mining Corp. en El Salvador. Manuel Pérez Rocha, investigador asociado en el Instituto para el Estudio de Políticas en la capital estadounidense, explica que esta empresa está afectando negativamente la ya erosionada imagen de las mineras canadiense en América Latina.