Communities from Across the Hemisphere Speak out Against Pacific Rim
On October 20th, thousands of people marched in Cabañas, El Salvador to voice their opposition to the proposed gold mining project of Pacific Rim, a Canadian mining company. The anti-mining movement in El Salvador has been growing over the past decade and in 2007, under pressure from this movement, the Salvadoran government began to put restrictions on the burgeoning, foreign-dominated mining industry.
In response, Pacific Rim and Commerce Group, a Milwaukee based mining company, filed multi-million dollar lawsuits against the financially struggling Salvadoran government. The two lawsuits, which total almost $200 million and are being tried at a World Bank trade tribunal, allege that the companies' free trade agreement protected investment rights have been violated.  After months of silence,  the tribunal hearing the cases ruled in June of 2012 that Pacific Rim could continue to pursue their claims at the tribunal by taking advantage of domestic Salvadoran investment law.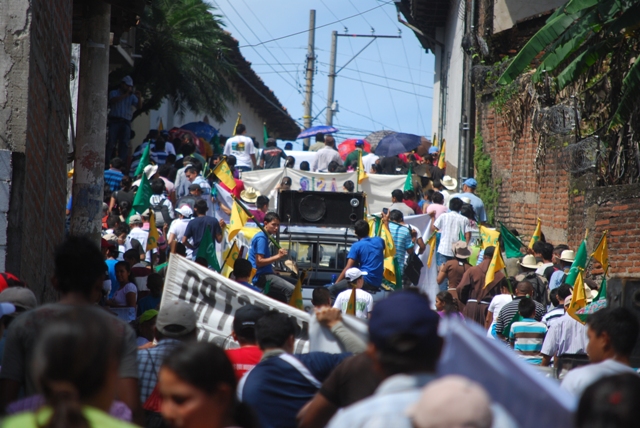 To amplify the demands of the anti-mining movement and its October 20th march in Cabañas, the department where Pacific Rim wants to mine, more than a hundred supporters from around the world called and emailed Pacific Rim. The community members and organizations that participated in the march and their international supporters demand that Pacific Rim respect the decision of the Salvadoran government and it's citizenry to reject mining. They ask Pacific Rim to drop the lawsuit against the Salvadoran Government and leave El Salvador.
In addition to the calls and emails made to the Pacific Rim headquarters, organizations from across the hemisphere sent statements of solidarity and greetings to El Salvador.  Organizations and individuals in Panama, Washington D.C., and Vancouver wrote to show their commitment to supporting the struggle to stop mining.  The Mining Justice Alliance from Vancouver wrote, "We are working to change this, and in the upcoming year we will be bringing the harms that Pacific Rim causes to the attention of people in Vancouver in public ways."  The Environmental Advocacy Center in Panama stated their solidarity in a letter to the Mesa: "We congratulate the work of the NATIONAL ROUNTABLE AGAINST METALLIC MINING IN EL SALVADOR in continuing the efforts to stop the development of the El Dorado gold mine, in the Department of Cabañas, because as the slogan in our campaigns say "Panamá is worth more without Mining," so "El Salvador is worth more without Mining."
What became clear after October 20th, is that resistance to Pacific Rim's projects is growing and as people marching in Cabañas said on the 20th "The People United will never be Defeated."
For the Mesa's report of the march in Spanish…
For the Solidarity Statementsfrom Panama and Vancouver…