Salvadoran Mining Struggles are Pertinent to Wisconsin
by A. David Dahmer,
April 25, 2012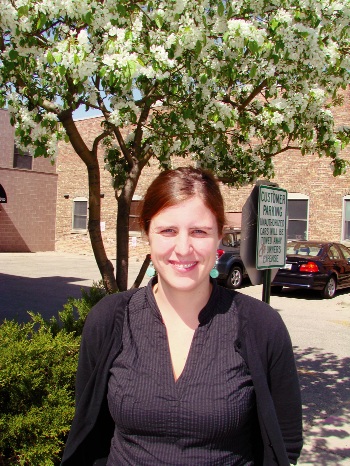 Jan Morrill, of the National Roundtable Against Metallic Mining, is on a national tour talking about important mining issues.
The recent mining controversy in northern Wisconsin was far more complex than people would have you believe, says Jan Morrill as she stopped in Madison as part of a national tour she was embarking on. Morrill, who works for the National Roundtable Against Metallic Mining, is actively working to build international alliances on the issue of mining.
Morrill spoke from her own extensive experience on building U.S.-El Salvador ties in a talk called "Globalizing Mining Resistance" April 11 at Helen C. White Hall on the University of Wisconsin-Madison campus.
Morrill has been directly working with communities resisting mining in El Salvador for four years and is currently the representative of the International Allies against Metallic Mining in El Salvador, a coalition of organizations in the U.S. and Canada working to support the struggles of Salvadoran communities for sovereignty over their natural resources.  In her work, she coordinates closely with the National Roundtable against Metallic Mining, national organizations in El Salvador, and the communities that have been and would be directly affected by gold mining. 
"I've been talking about patterns in the international mining industry and how what happened here in Wisconsin is not unique to here," she tells The Madison Times in an interview at Ground Zero Coffee shop. "That's what has been happening in El Salvador, Honduras, Guatemala, and South America, the Philippines."
Mining companies have come to communities in El Salvador, and now in Wisconsin, touting jobs and "environmentally safe mining" which uses, they claim, new technology and new techniques. But what they say is very different from what Morrill says she has seen firsthand.
Read the rest of the article here….