Experts Will Assign Responsibility in Mining Case
Studies have shown that there is cyanide, iron and other heavy metals in the water
October 9, 2012-German Rivas
La Prensa Grafica
The original in Spanish can be found here
A team of specialists, made up of seven people, will investigate the cause of the cyanide and iron pollution coming from the San Sebastian gold mine (Santa Rosa de Lima, La Unión), with the goal of identifying those responsible for the pollution.
"We should not only carry out studies that look at how far-reaching this is, but also that identify actions to mitigate these effects in order to call for some measures from those responsible," said Lina Dolores Pohl, the Vice-minister of the Environment and Natural Resources (MARN in Spanish).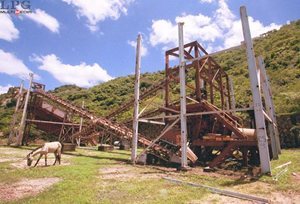 The backyard mining at the San Sebastian mine still holds the attention of the Vice-minister, after having received complaints about the pollution whose main sources is a rust colored acidic discharge that comes from the slope of the Cosigüina Mountain, where there was industrial mining for decades.
Water analysis has shown 0.45 milligrams of cyanide per liter of water, when the allowed limit is 0.05 milligrams; also, there were 393.4 milligrams of iron per liter, when the maximum limit is 0.3 milligrams per liter.  
According to Pohl, the causes could originate either from the industrial mining formerly carried out by Commerce Group or by the backyard mining that is currently being done by hundreds of people that poses a risk to personal safety, including that of minors, by using explosives.
Studies carried out by the Center for Investigation of Investment and Commerce (CEICOM) in the area have determined that the water and soil are contaminated with aluminum, zinc, lead, arsenic and cadmium. 
"This goes beyond the capacity of the ministry,[but] we have funding to establish a work team that will do these studies which in turn will help us clarify who is responsible so that we can act and resolve the problems in the area," added the government official.
The funding, which totals $10,000, comes from aid given by the Republic of China (Taiwán) for environmental investigations at the MARN. 
Pohl recognized that dealing with these problems is complicated, because the whole community's source of income is the mine.